mediaCONNECT


Enhance your lessons with over 130,000 videos from Discovery, NBC, Learn 360 and more!

Model Schools
Transform teaching to meet the needs of 21st-century learners through dynamic PD workshops, and online classes. Learn about TALKS, Appy Hour and TIES to connect, explore, and share!
eLearning


K-12 virtual learning opportunities including online courses, video conferencing, distance learning, our acclaimed American Sign Language program and more!

Ask IT!
Ask us to prepare Virtual Resource Kits for your lessons, show you a new tool, or do a demo at your school! View our full collection of Virtual Resource Kits.
Workshops


Attend workshops, webinars, or take an on-line course to keep your learning moving forward!

Stop Cyber-Bullying!


Appropriate use of social media and other digital citizenship resources found here: Common Sense Media and NetSmartz


.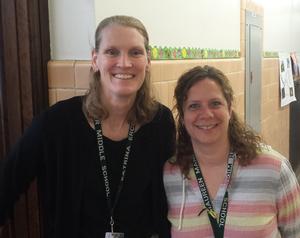 Katrina Ercole & Maureen Manke
5th Grade Teachers
Driver Middle School
Marcellus Central School District
Katrina Ercole and Maureen Manke co-teach 5th grade at Drive Middle School in the Marcellus Central School District. Katrina has eleven years of teaching experience, all of which have been spent working in Marcellus. Maureen Manke is a Special Educator with sixteen years of teaching experience, seven of which have been spent in Marcellus.
What are some of the innovative ways you are integrating technology into your curriculum?
If you are wondering what a 21st Century Classroom looks like, look no further than the 5th Grade wing at Driver Middle School. Katrina Ercole and Maureen Manke have leveraged a variety of digital tools to support teaching and learning in the Marcellus Central School District. Katrina and Maureen utilize the Smartboard in their rooms for every subject area. Student worksheets and journal pages are displayed, as well as learning targets and directions. Students are able to follow along visually as well as look back if they need reminders.
Marcellus Central Schools has adopted Google Apps for Education (GAFE) to support collaboration across the district. Katrina and Maureen's students are proficient in using Google Docs to collaborate with one another as well as turn in assignments electronically. Students have access to a wide variety of hardware to leverage Google's cloud-based tools, including desktop computers, Chromebooks, netbooks, and iPads.
[more...]
Is This You?
Are you the type of teacher who thinks about technology integration and new ways to enhance instruction, engage students, and make learning fun? Know someone who fits the profile?
Recommend
a "Featured Teacher" so we can recognize and celebrate great work in the area of instructional technology!