mediaCONNECT


Enhance your lessons with over 130,000 videos from Discovery, NBC, Learn 360 and more!

Model Schools
Transform teaching to meet the needs of 21st-century learners through dynamic PD workshops, and online classes. Learn about TALKS, and to connect, explore, and share!
eLearning


K-12 virtual learning opportunities including online courses, video conferencing, distance learning, our acclaimed American Sign Language program and more!

Ask IT!
Ask us to prepare Virtual Resource Kits for your lessons, show you a new tool, or do a demo at your school! View our full collection of Virtual Resource Kits.
Workshops


Attend workshops, webinars, or take an on-line course to keep your learning moving forward!

Stop Cyber-Bullying!


Appropriate use of social media and other digital citizenship resources found here: Common Sense Media and NetSmartz


.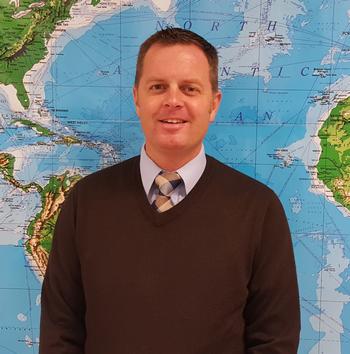 Micah Shippee
7th Grade Social Studies Teacher
Liverpool Middle School
Liverpool Central School District

Congratulations to our November 2015 Featured Teacher Micah Shippee. Micah is 16 year veteran teacher in the Liverpool Central School District.

What are some of the innovative ways that Micah integrates technology into his curriculum?

In Micah's social studies classes, students leverage technology in many ways. Sometimes they will simply use digital maps on an iPad rather than a paperbacked atlas to achieve the same class objectives. Micah has seen increased student engagement based on the use of the iPad. Additionally, his students use popular video games to simulate historical events. Micah has found that Sid Meier's Civilization IV: Colonization (video game) does an excellent job of lending itself to high level, experienced-based discussions on mercantilism in the Age of Colonization. This school year, Micah decided to transform his annual class cemetery walk by having the students collaboratively research, photograph, and digitally label gravestones in the Liverpool Cemetery. Guided by the work of former, Liverpool CSD Social Studies teacher, Clarie Deloria's "Liverpool Cemetery: A Walking Tour" book, students visited the cemetery, and photographed and transcribed their assigned gravestone... [ more... ]




Is This You?


Are you the type of teacher who thinks about technology integration and new ways to enhance instruction, engage students, and make learning fun? Know someone who fits the profile? Recommend a "Featured Teacher" so we can recognize and celebrate great work in the area of instructional technology!